I'm sure you know security and pentesting videos and video tutorials on server irongeek, youtube, google video etc. Sooner or later you will find a problem that is hard to be describe online or vice versa. But you are the one who nows the solution and you want to share it. If you are planning to do your own clip the tutorial how to make your own video will show you how to easily make a sound video shot or a picture sequence.
xvidcap
XvidCap is a small Linux application with an easy installation and service. Tested on distribution Backtrack 2 Final, BackTrack 3 Beta, Ubuntu 6.06 Dapper Drake a Ubuntu 7.10 Gutsy Gibbon.

Backtrack 2 Final
To install in Backtrack 2 you need to download source code and compile (it will get along without installation dependability). In download section is lzm pack for live system.
BackTrack 3 Beta
For Backtrack 3 download the pack (xvidcap-20071215-i486-1mtx.tgz). After run command
installpkg xvidcap-20071215-i486-1mtx.tgz
That's all. Run it from console xvidcap --auto or from the menu (Media)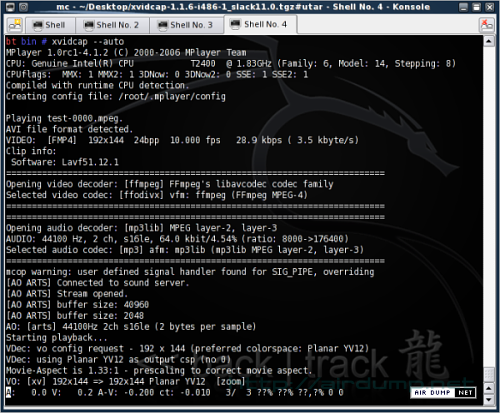 Ubuntu 6.06 Dapper Drake
Xvidcap can be installed in Ubuntu 6.06 just by compilation. For the packet .deb that can be downloaded at Sourceforge the dependability is not fulfiled (complete). At the trial installation was missing a packet (complete) that I have installed by apt-get. It depends what do you have installed – if the dependability will not be fulfiled the packet installation can be finished and you can continue in the compilation.
Ubuntu 7.10 Gutsy Gibbon
In Ubuntu 7.10 can be xvidcap installed from .deb package XvidCap 1.1.6.
Application Control
The application Xvidcap can be controled by grafic interface or by console.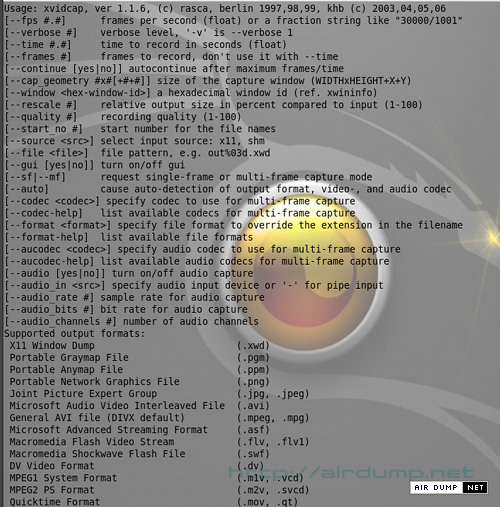 Mpeg video conversion into flash (flv)
You need only one command
mencoder soubor.mpeg -o vysledni-soubor.flv -of lavf -oac mp3lame -lameopts abr:br=56 -ovc lavc -lavcopts vcodec=flv:vbitrate=500:mbd=2:mv0:trell:v4mv:cbp:last_pred=3 -srate 22050 -lavfopts i_certify_that_my_video_stream_does_not_use_b_frames
Sound record from the player
If you want to record the sound from the player instead of from the microphone just mark in the configuration Alsa Mixér choice Mix.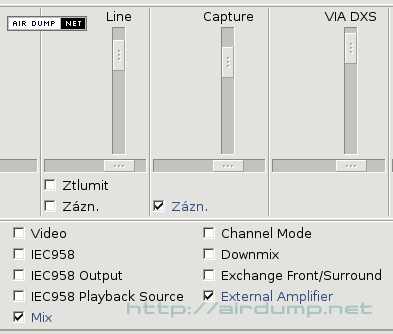 Here (DIR unca, file airdump-test-video.avi) you can download (or directly have a look accordign to your browser configuration) a short example clip 🙂 It is in low resolution and the sound is recorded by interal microphone (it has a special colour 🙂
Similar Posts: